Shop 'til You Drop!
The Great Burlesque Exposition
offers a fabulous shopping experience, no matter what your desires! Our
Fashion Fair
, is located on the first floor of Salem's Old Town Hall, 32 Derby Square, Salem MA. Open on Saturday and Sunday, from noon until 8:00 p.m., it's home to dozens of delightful vendors selling everything you need, whether you're a professional performer or just want to look spectacular!
The Vintage Fashion Fair is also home to our Costume Display, and our Art Exhibit.

Our aim is to provide a safe, inclusive, and comfortable space for people to learn about self care and better sex! We offer high quality bath/body products and a wide variety of toys, as well as the knowledge and tools to create a more satisfying relationship with the… (more)
Bold Burlesque designs couture pasties from a mélange of materials, but specializes in incorporating gemstones and vintage, salvaged jewelry. Bold Burlesque offers custom and pre-made pasties, and works collaboratively with clients to create unique and glamorous pasties for thei… (more)
Bling, glorious bling -- earrings, earring/necklace sets, bracelets, hair clips and other shiny stuff to enhance your look and add that certain glow! Come see what we have to entice you!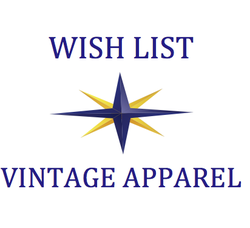 Collector Quality Vintage Items. Former vendor at your show and also current vendor at Sowa Vintage Market. Inventory will include extraordinary vintage clothing and accessories from the 1920's and more. Company name Wish List Vintage Apparel (instagram) and facebook. In the pr… (more)

I sell antiques and oddities, tailored to the theme of the event.
Halloween, horror, black cat, Salem inspired original art and art prints. Goth beaded jewelry.
Ties that Bynde specializes in high quality steel boned corsets. Owner and designer, Jessica, personal designs, pattern drafts and sees every corset. Her typical booth set up includes a wide variety corsets styles, and sizes. Her plan for this show is to bring a number … (more)

Natural, artisanal henna body art for all your adornment needs!

Locally harvested sea salt, acrylic and watercolor artwork, handma… (more)